---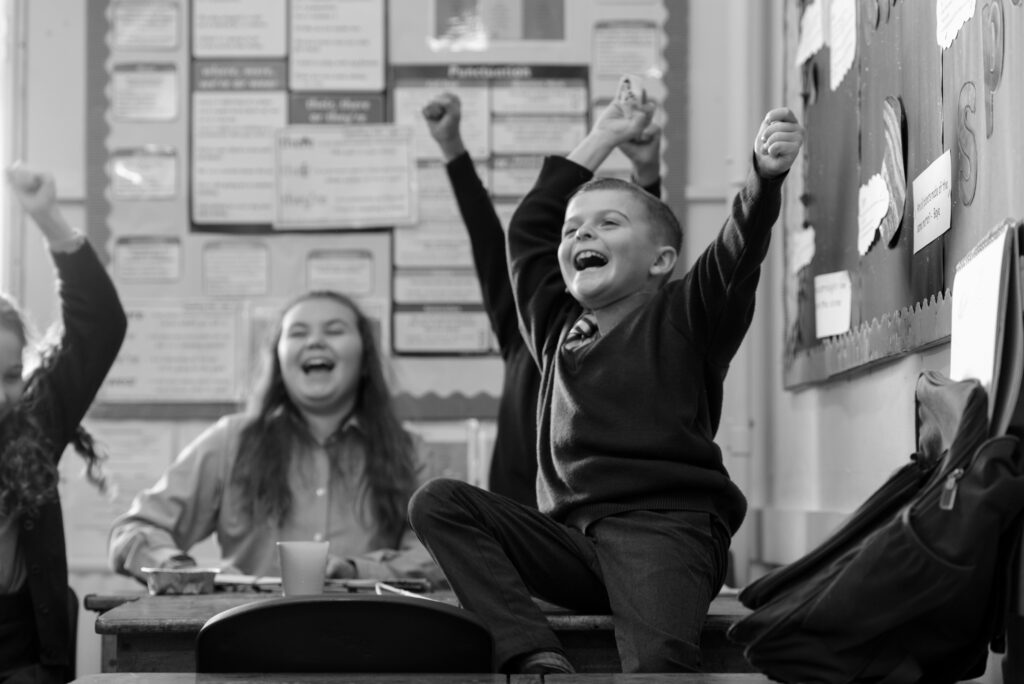 WELCOME!
A very warm welcome to the F6 Class page, we hope you find the information useful and enjoy looking at our achievements so far this academic year.
In Form 6, we pride ourselves on our strong work ethic and our sky-high ambition. As the oldest in the school we are role models for the other children of Cleve House. Learning in our classroom is fun and focused, so that with laughter and teamwork, we can drive each other on to achieve our goals.
It's an important year for our family, as many of us prepare for Entrance Exams to a selection of the best Independent Schools in the country.
This page maps our journey this year to prepare for our transition to Secondary Education, as we acquire the skills to serve us in later life.
---
Design Technology: Engineering (Spring 2)
The children investigated how to use different joins to create a tower and bridge structure as part of their DT project this term. Working collaboratively, the children showed great resilience and determination and enjoyed the success of watching their 'Marble Run' start to take shape. We all evaluated our designs after completion and the research helped us think about the types of joins we will use in our final designs.
---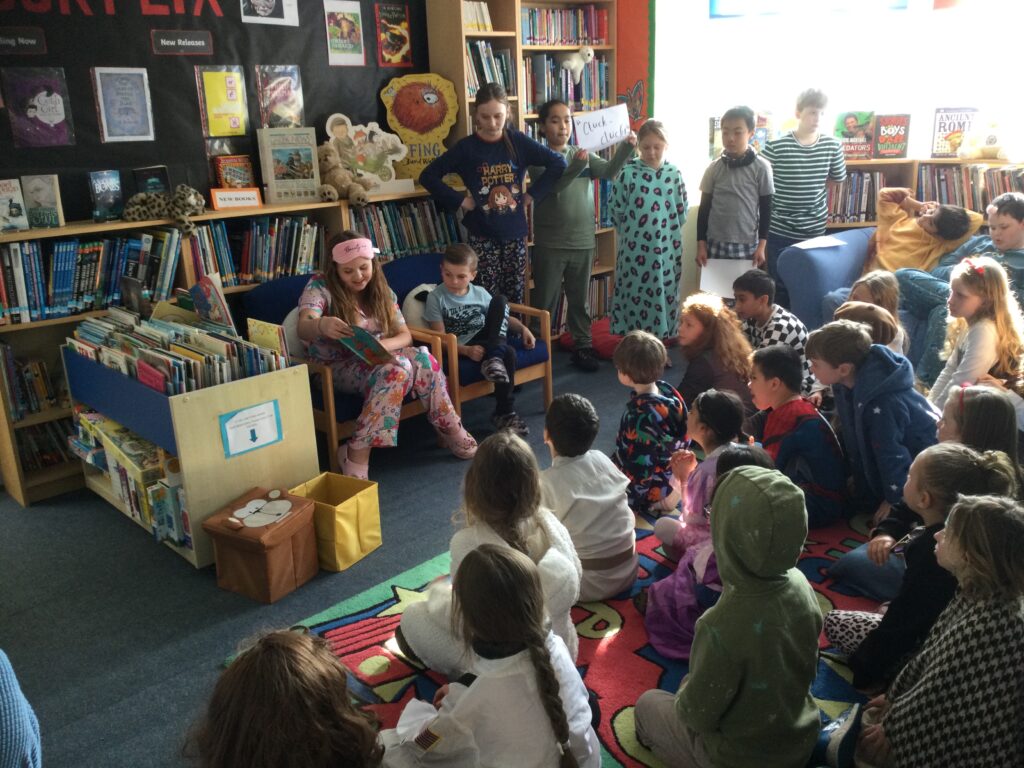 World Book Day March 2023
Form 6 led the whole school in a story during World Book Day this year. The children loved dressing up as their favourite characters and listening to an interactive version of 'The Little Red Hen'… cluck cluckkkk!
---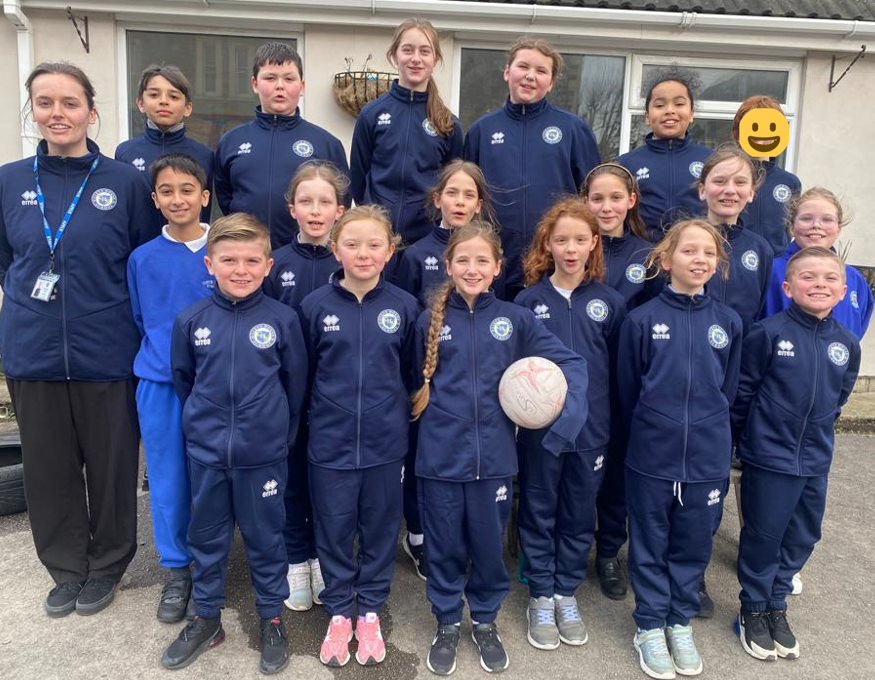 ---

---
History (Spring Term)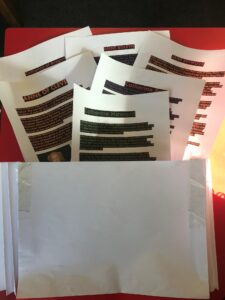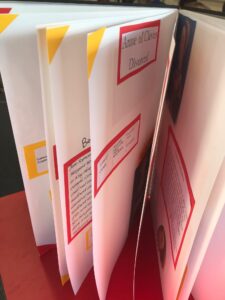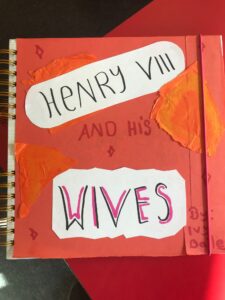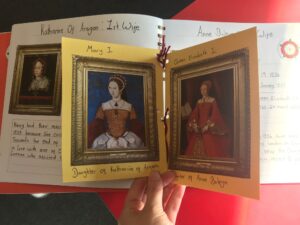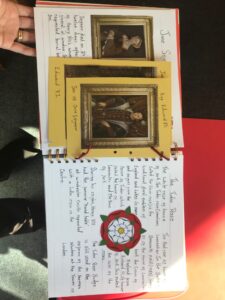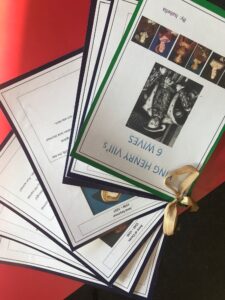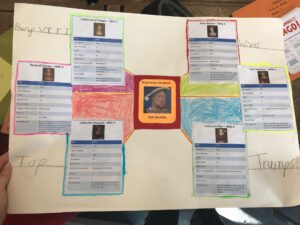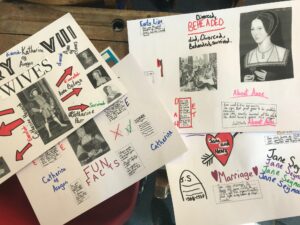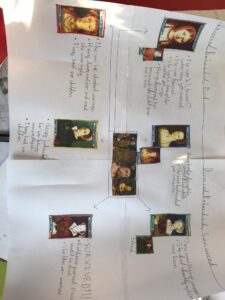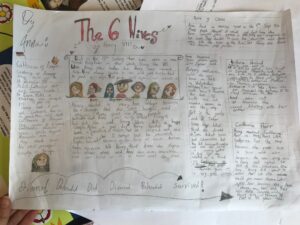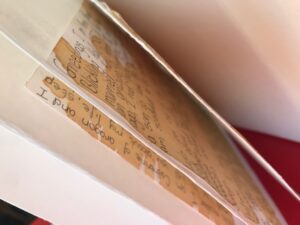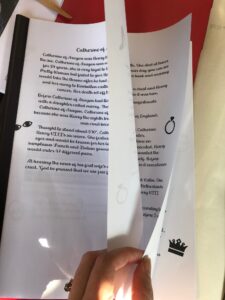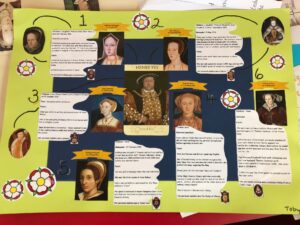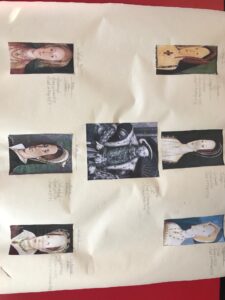 ---
Tudor Court
Family turned on family in today's Tudor Court. We've been learning about Tudor Crime and Punishment in History today and we had an absolute blast!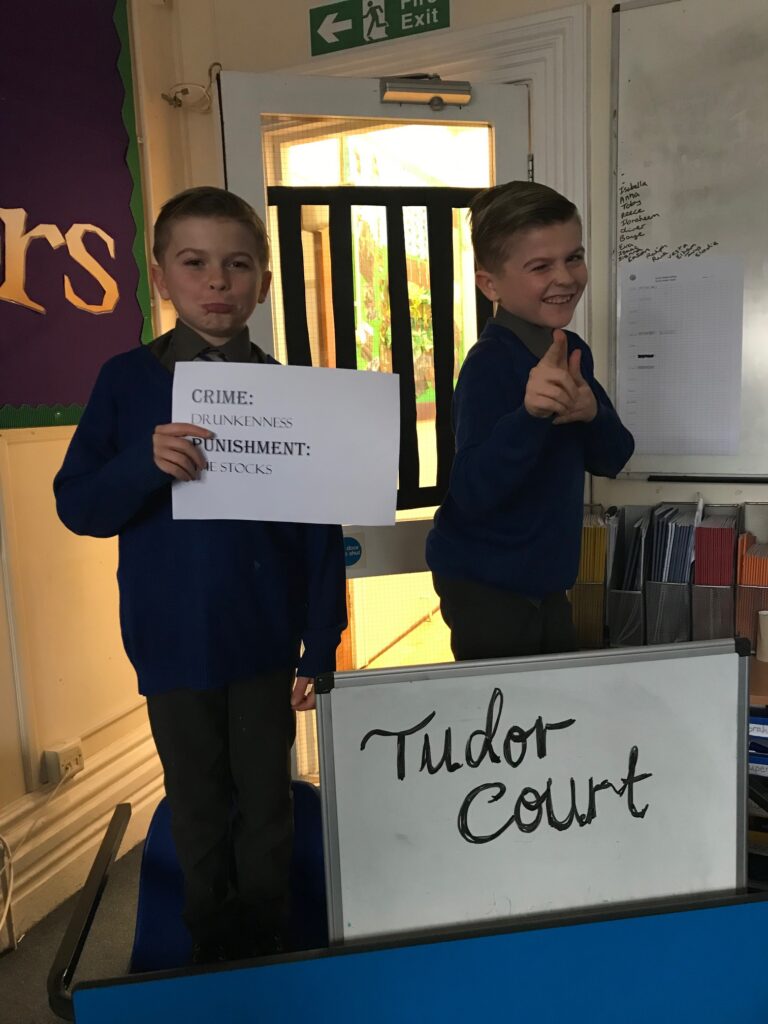 ---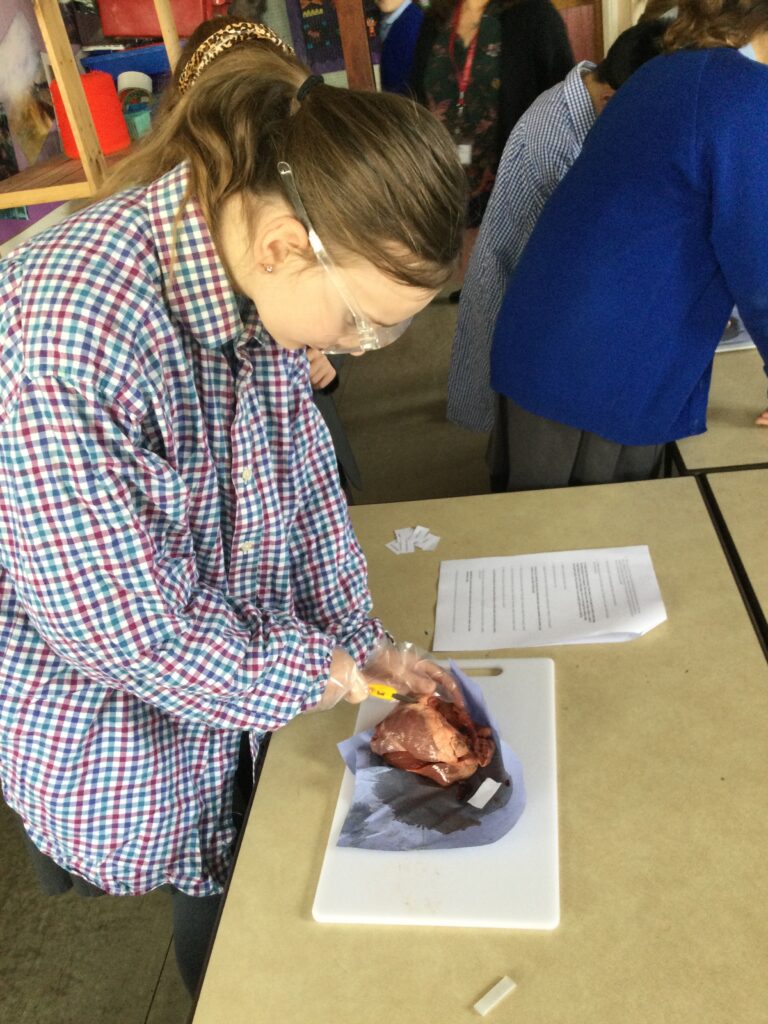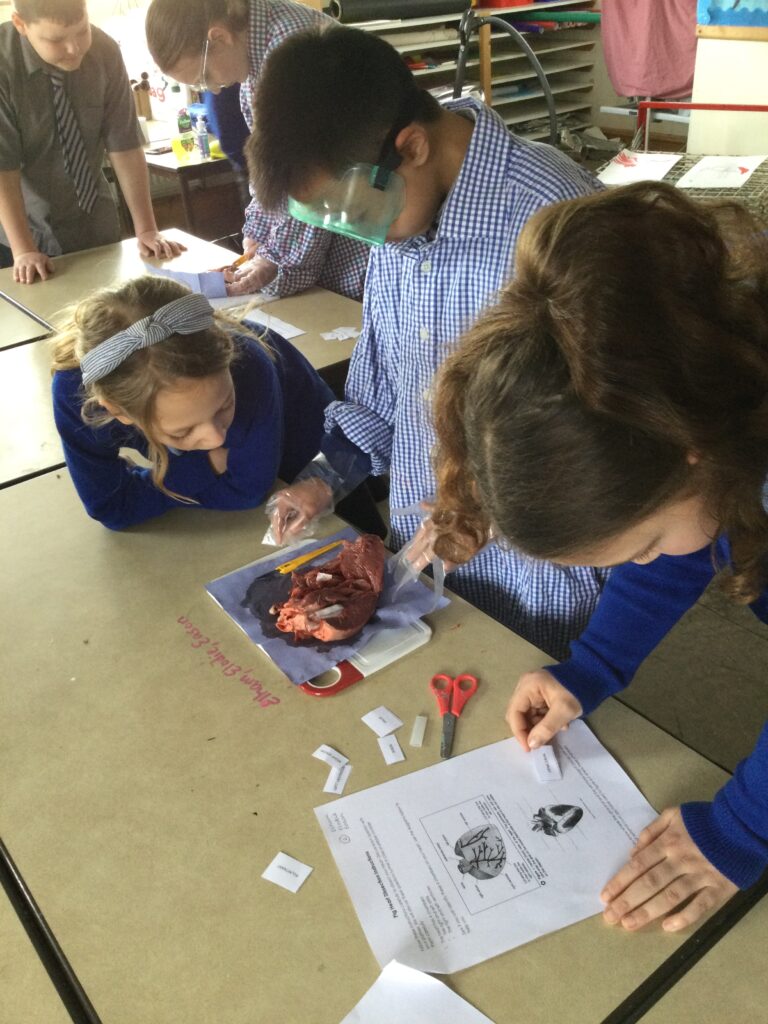 Science: The Circulatory System
January 2023
F6 loved taking part in a pig heart dissection as part of their learning in Science. After learning about conducting Risk Assessments, we were suitably prepared to expand our understanding. We couldn't believe how heavy the heart was!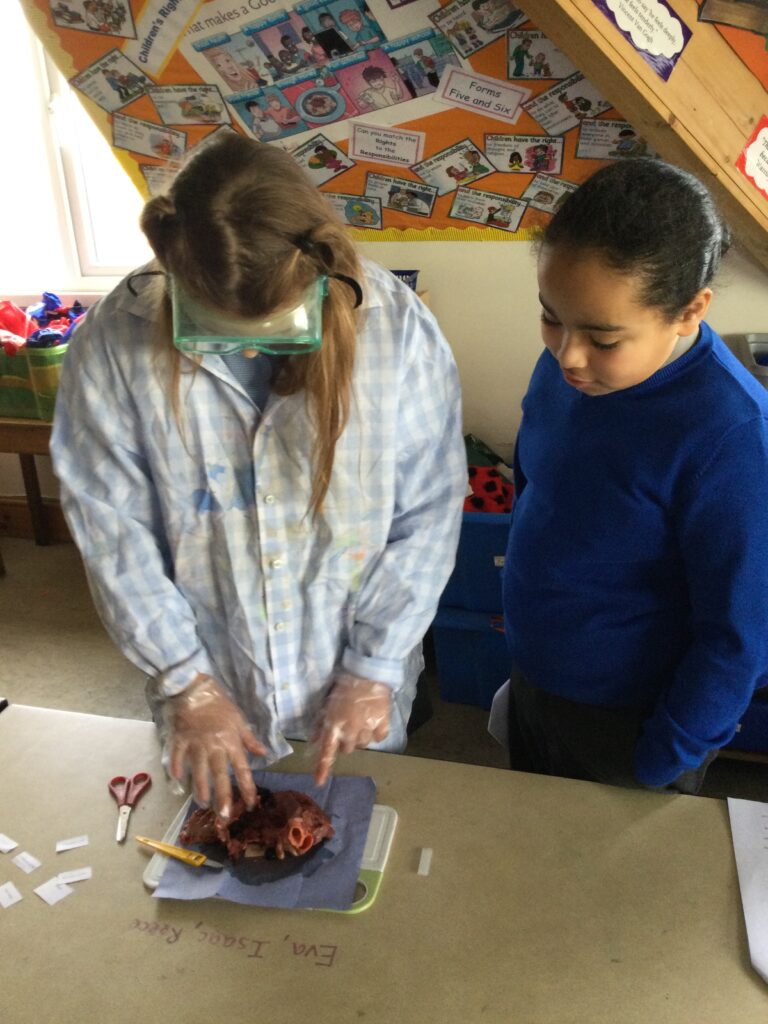 ---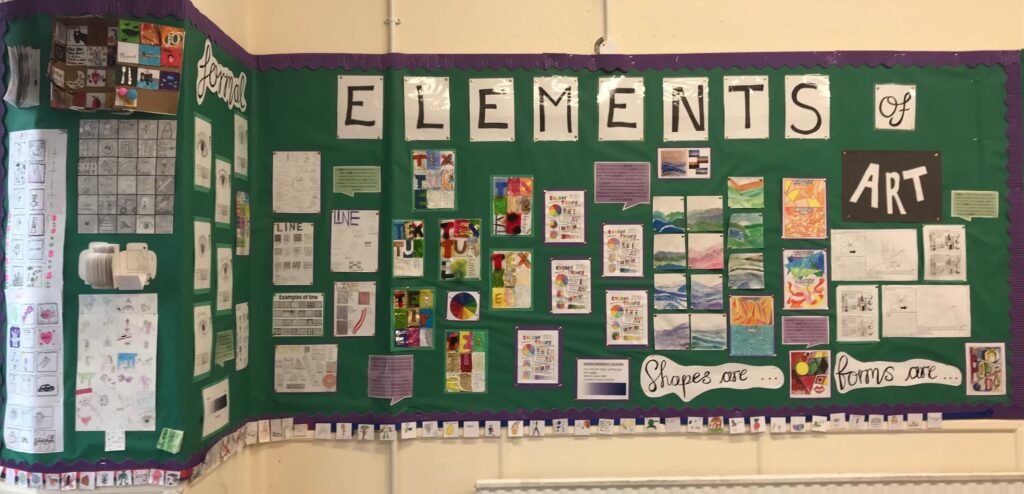 ---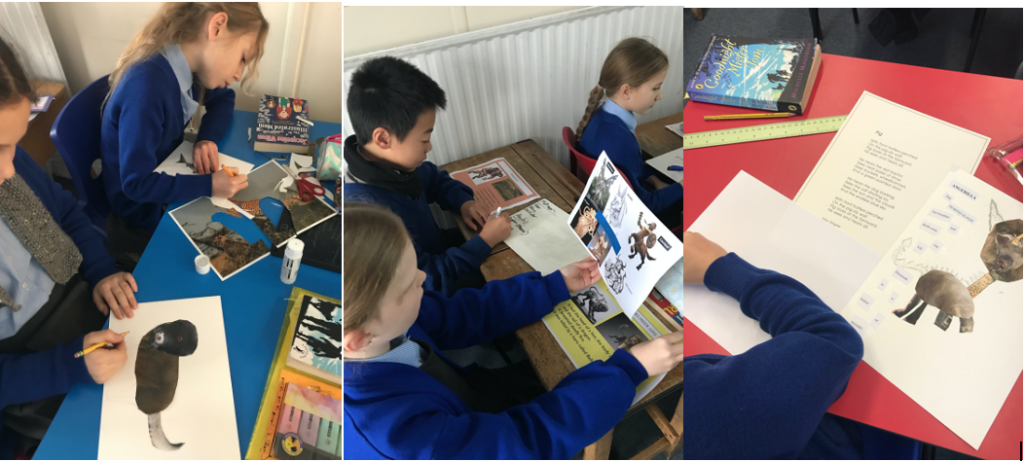 Mixed Media: Mythical Beasts
December 2022
During a Mixed Media project, we were able to use the skills we have learned in History, DT, English and Art throughout the Autumn Term. Our students were working hard today researching, drawing, creating images using mixed media and analysing poems to create their own mythical beasts.
---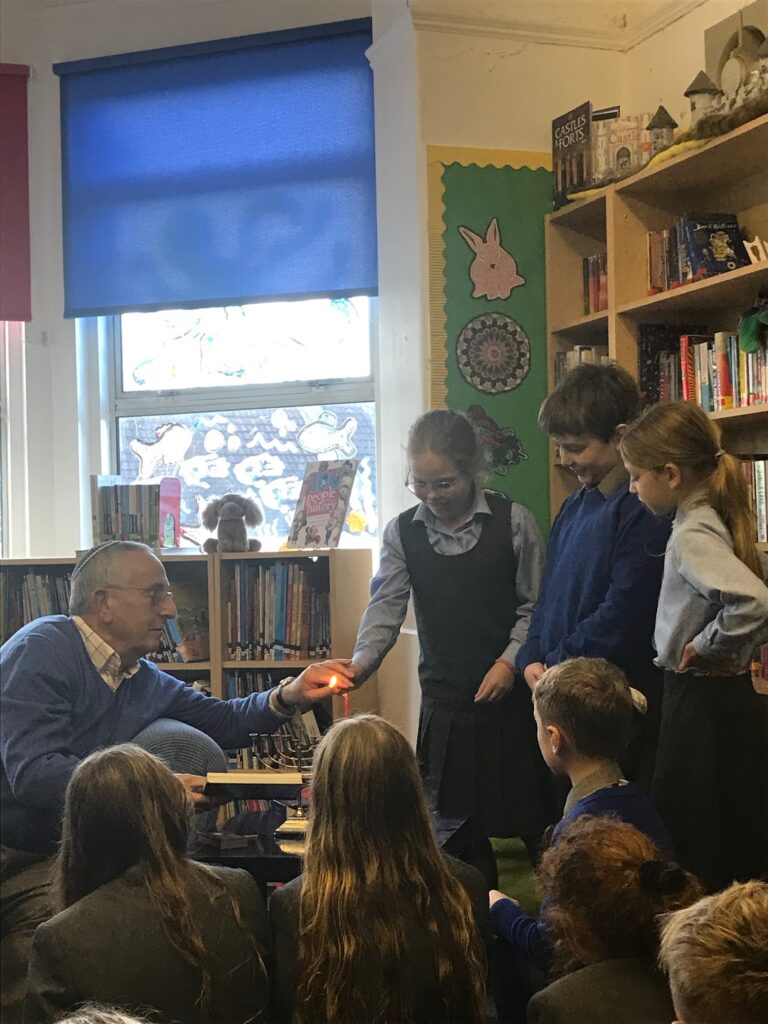 Religious Studies: A visit from Mr Gordon of Park Row Synagogue
During Religious Studies lessons in the second half of Autumn term, the children have been learning about Religious festivals. Mr Gordon was able to visit us here at Cleve House School to tell us more about Judaism and the festivals that Jewish people practise. The children enjoyed showing off what they had learned so far and asked interesting and insightful questions. We were very grateful for the visit and look forward to visiting the synagogue in person at some point i n the near future.
---
History & Geography: Natural Disasters & the Ancient Greeks (Autumn Term)
The culmination of our learning in Geography and History this term saw us test our Greek Temples against the forces of nature.
We have been learning about natural disasters and especially those that happened to the Ancient Greeks.
Well, we think we made the Gods angry because our temples were tested by volcanoes, tsunamis, hurricanes and landslides!
What an exciting end to our learning in these subjects.
---
REMEMBRANCE DAY – NOVEMBER 2022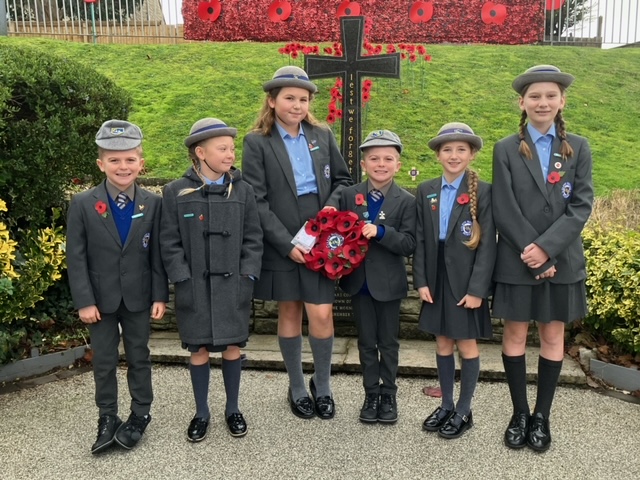 Form 6 attended a Remembrance Day service in Whitchurch to lay a wreath in honour of those who lost their lives in WW1.
Our Head Boy and Head Girl along with our Peer Mentors proudly represented our school and conducted themselves admirably throughout.
---
Bristol Life Skills Centre Trip: (November 2022)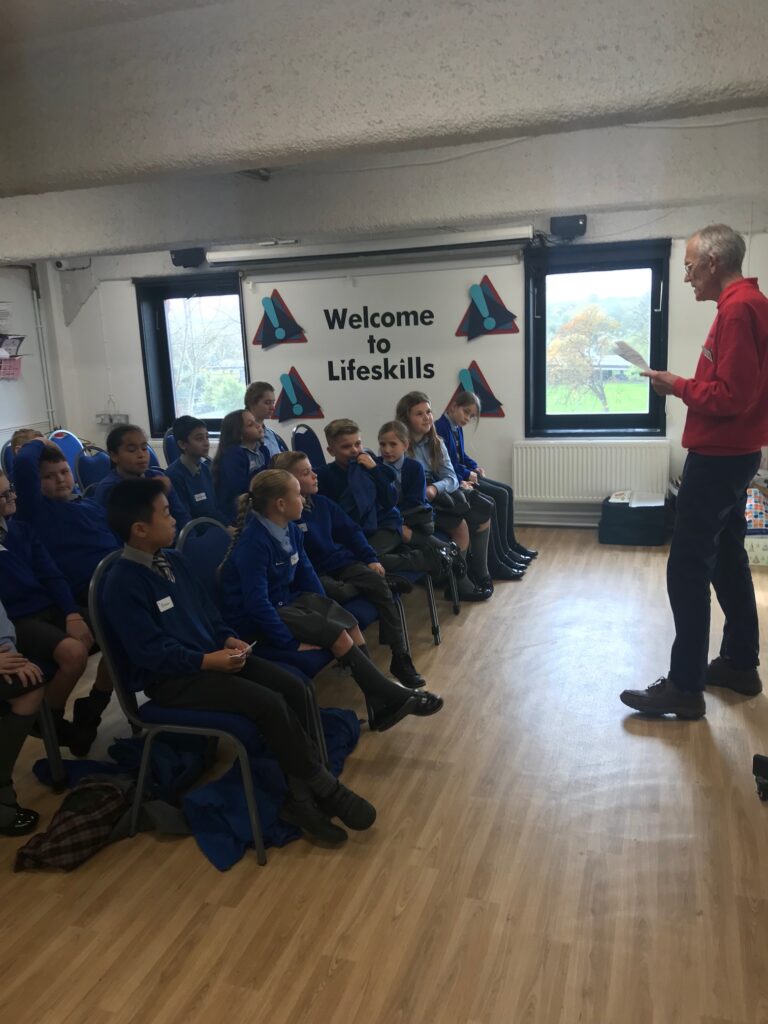 ---
Bristol Museum & Art Gallery Trip: October 2022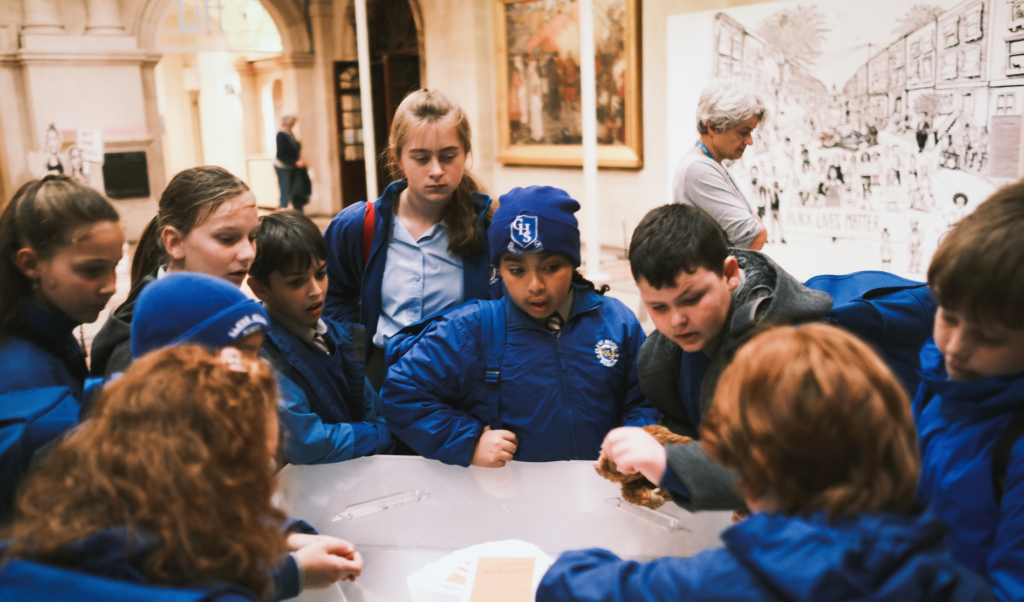 ---
FROST
Anne curled up in her warm bed. At sixteen this was a privilege and a heaven. Her auburn hair spread around her head like a hood. For the hundredth time, she cursed its vibrant colour. Only this morning a street rat had accused her of having a temper to match her hair; an old woman had whispered to her friend that Anne was a child of Satan. After many unhelpful thoughts, she finally drifted off into a hot sleep (the climate of a tropical island really didn't agree with her).
She woke with a start. This wasn't her bedroom! The brown walls of her room had been replaced with smooth ice and all the photos of her family had turned into perfect carvings. Her bed was sculpted out of ice crystals. The only thing that wasn't ice was a soft wooden table with a glass ball perched on top. Its murky surface swirled and suddenly a voice boomed, "Go to the palace of King mar. There you will find your quest." At first, Anne was totally taken aback; and then, she was angry. She didn't know why, but she was. Maybe it was because they had taken her far away and told her she had to do some weird quest. Even so, she consulted a map she had found on the wooden table – at least ten minutes walk to the place marked, 'Great castle of King Mar!'which she assumed was the palace.
Finally, she set off. But before she was even half-way, Anne saw something silver glinting in the sun, or maybe the cold sun. She picked it up holding it at arms length (as she had no idea what it may be) but as she stared at it, it became obvious that it was a bow and arrow. A freezing, silver one maybe, but a bow and arrow all the same. "What could this be for?" she murmured to herself. "Better keep it though." She stuffed it into her warm, wooly coat with a sigh. This was quite a puzzle to her. On she went. Soon, Anne saw breathtaking towers rise into view. Only then dis she realise how beautiful everything was. Everything around her looked like it was dipped in sugar. Even the palace's hard walls had softened in the snow.
In the palace, the servants bustled around preparing food for something. It looked like there was going to be a party. Anne directed her view on a gran figure reclining on a golden throne. He beckoned her. "I am so glad you have come! I am King Mar." He announced.
"Umm, I am sorry King Mar, but why am I here? And what is this?" She pointed at the bow.
"Ahh, I understand," he soothed "you are here on a quest and that is the bow of legend. I will get to the point. The Sun has disappeared and you must bring it back.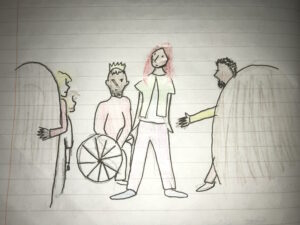 Do you accept?"
"Okay, sure! Where is it?"
"it is tethered to a mountain in the centre of the world. Now go and take your bow with you!" he boomed.
Anne ran from the room, sensing she had little time to complete the task, She took nothing but; a morsel of bread, a packet of water – as she had no bottle – and the bow and arrow. Anne knew a bucket load about water. In her hot home country she had to because any liquid was scarce. All she had to do was follow the river upstream and she would get to the mountain. Sadly, however, the weather was not on her side, and she was caught in a raging snow storm. She had to hide in a cave postponing yet for of her time. When it cleared, Anne began trudging through the sinking sludge left over from the storm.
All of a sudden, a milk white snake slithered out of the undergrowth. She screamed in terror before remembering the bow. She fumbled with her coat buttons before reaching in the soft fur and taking it out. She aimed it with shaking hands and miraculously, the arrow sailed through the air without a wobble. Strangely though, it turned into a white snow ball and hit the snake. "What?" Anne breathed. The snake began to freeze, becoming just an ice sculpture of time. Feeling much safer, Anne sauntered away towards the shadowy silhouette of the mountain. She stood wondering what to do at the foot of the mountain. Anne could see the Sun, but she couldn't get to it. Then Anne spotted the rope holding it down. She could get that! As soon as she had a firm grip of the rope, Anne pulled it back home. It tested her but she made it and let it go above the palace. The Sun flooded up to the clouds like a balloon.
All the towns folk flung open their doors and cheered so loudly the king came out to see what had been going on. "This young lady has brought back the Sun!" an old man told him. The king sped over to her in his wheel chair and gave her great riches. All Anne's family were now blessed with an amazing story and the silver bow and arrow. That night Anne slept happily with her family, but they were no longer on a tropical island paradise, they were cosy by the firs in the land of frost.
Author: Elodie (November 2022)
---
Design Technology: Graphics & Engineering (Autumn 1)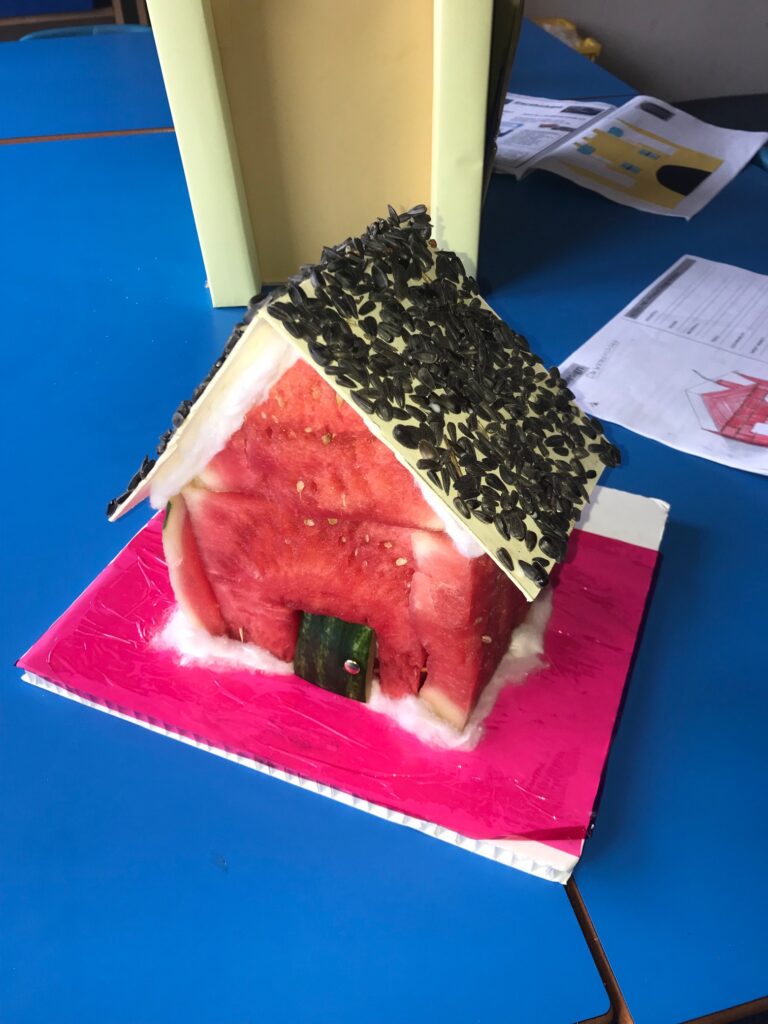 In Graphics and Engineering, Upper Key Stage 2 were tasked with creating 'Crazy Houses'. They used all manner of weird and wonderful materials and spent the first part of our Autumn term designing, refining, making and evaluating their creations.
As part of this topic, we learned how to use Mind Maps, create Mood Boards and used our researching skills to explore sustainable creations (such as 'Earth Ships'). We also took inspiration from Casa Batlló created by Antoni Gaudi and learned about Structures and Forces and how they could impact our designs.
Whilst completing our Self Evaluations and regular Peer Assessments we looked at WWW (What Went Well) and our EBIs (Even Better Ifs) in order to reflect and improve our creations at every stage of the process.
Picture:
Rupert's water melon house with hinged door and sun flower seed roof.
---
Writing Creatively…
Form 6 enjoyed some sensory exploration as a stimulus for their creative writing. During their 'Independent Project' Lessons, the children are allowed to write in a style of their choosing. During this lesson we were tasked with describing the discovery of our deserted islands. We were able to come up with lots of exciting describing words to enrich our writing after challenging our senses using blind-folds!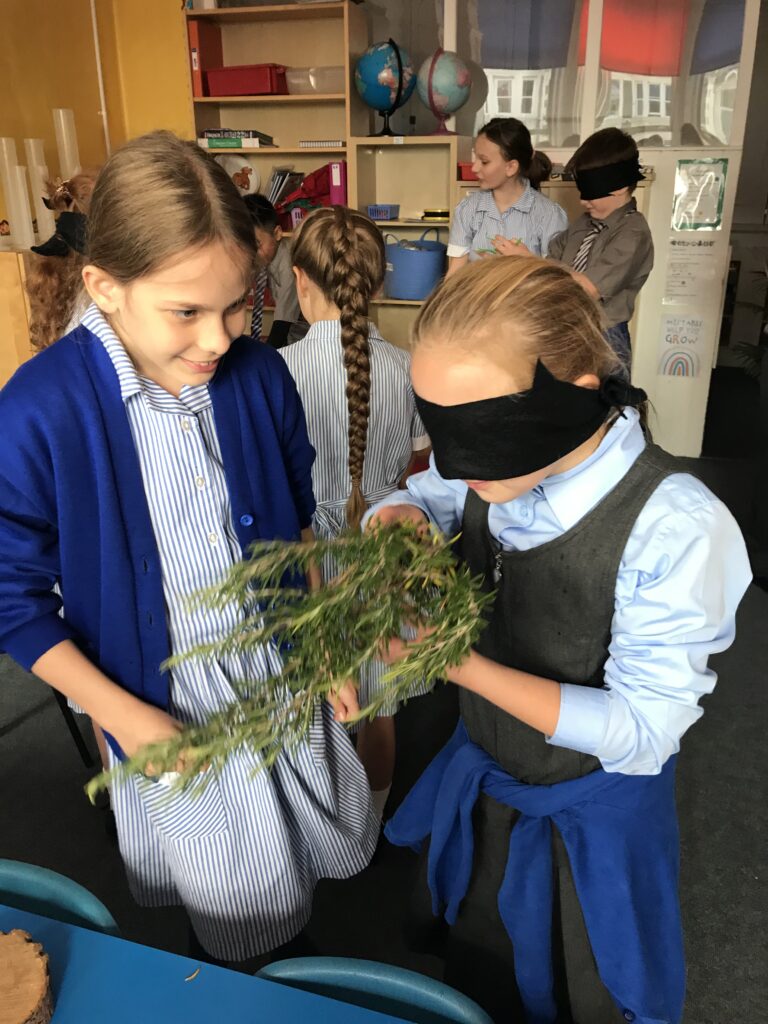 ---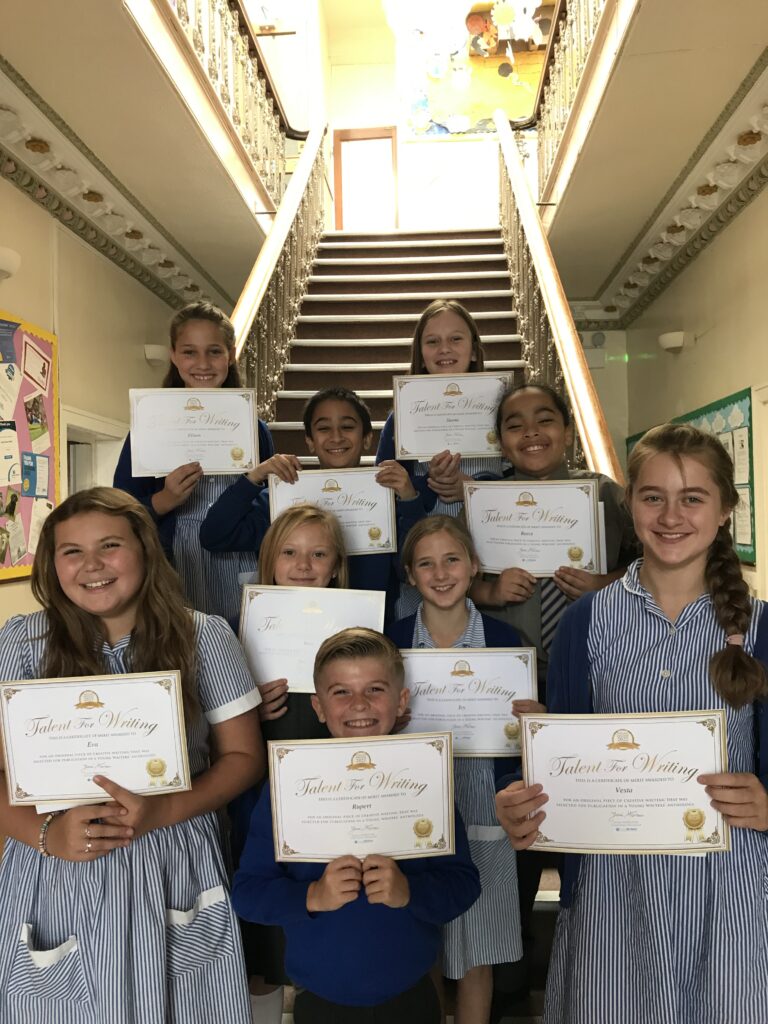 F6's Award Winning Cross-Curricular Writing
Our new Form 6 students have already reaped the rewards of their hard work last year. Ms Riach entered students into a Young Writers competition which involved writing short pieces of historical fiction for a chance to be published authors.
Congratulations to all who entered and especially to the children who were successful in their efforts! #CleveKidsCan!
---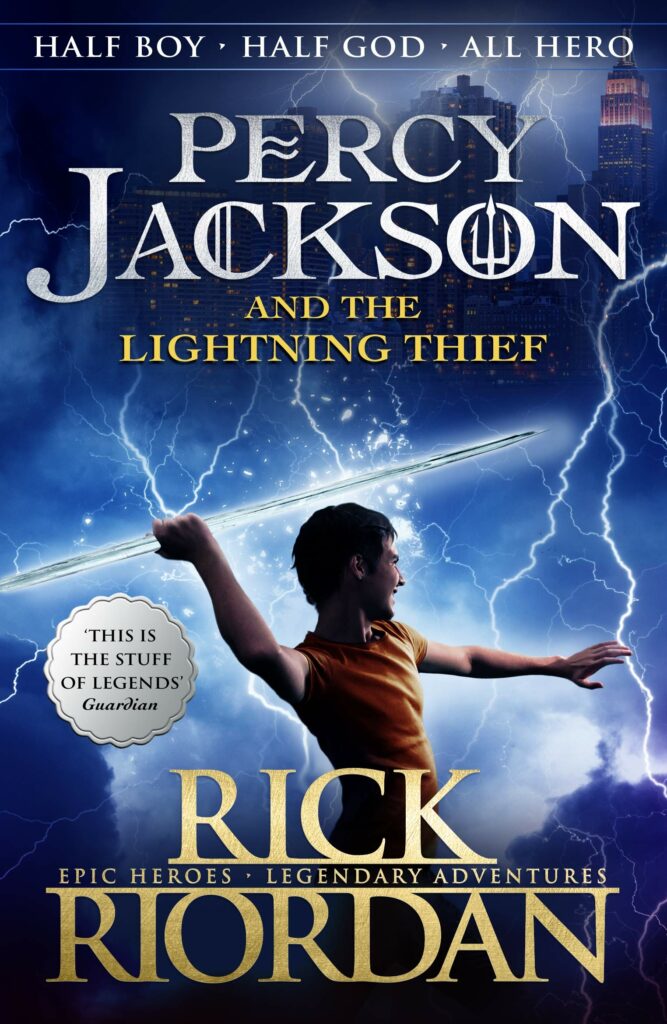 ---